Tet Holiday is the annual biggest celebration which hold on three first days of lunar new year in Vietnam. During these days, people welcome a new year coming with new successes, good health and luckiness. Tet is also the occasion for all members in each Vietnamese family to reunite and gather together after a hard working year. In the last day of year, the new year celebrated with a massive firework show. People often concentrate in the central area for watching the firework show at that time.
Ton Duc Thang Street, Ho Chi Minh City
Da Nang City
Vietnamese people also prepare many foods and drinks on these days. Here are some most typical foods in Tet Holiday.
Chung Cake (Bánh Chưng) is made from glutinous rice, mung bean and pork, added with many ingredients. Chung Cake is often covered by banana leaves and it is chosen the main food for

Tet Holiday.
Chung Cake (Bánh Chưng)
Vietnamese ham/sausage (Chả Lụa). Cha Lua is usually served with Xoi (sticky rice) and Banh Chung. It is made form lean meat and

ingredients

, added a little fish sauce, covered by green leaves and boiled

for hours.
Red Sticky Rice made by Gac fruit (Xôi Gấc). Xoi Gac is favorite by most people in Tet

days

because its special red color. It was believed

that r

ed symbolizes the luck and successes

for

a new year. Not only its color is special but its

taste

is

also

very delicious. Xoi Gac is often served with Cha Lua and boiled chicken in Tet meals. Sometimes it is also

chosen serving

with Che (sweet soup)

like a desert.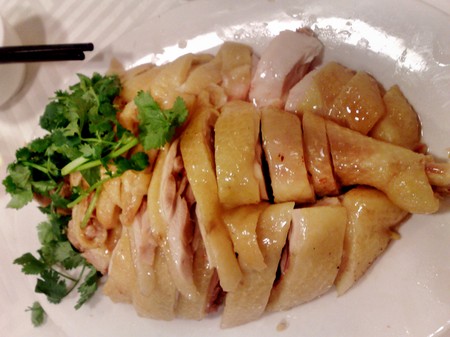 Boiled Chicken (Thịt Gà) is served with Xoi and Banh Chung and it is also one of the most popular dishes in Vietnamese fa

milies in

Tet Holiday.
Braised pork in coconut juice and

duck

eggs (Thịt kho trứng). It is

ideally

served with

steamed rice and vegetables (fresh or pickled).
Candied fruits (Mứt tết). It is great to serve with jasmine tea. Mut Tet is prepared in a box to give visitors, gift for friends and family, offer to ancestors

in Tet days.
As the habits and customs, people often visit their relatives or neighbors to wish them luckiness, health, happiness and successes in the first days of the new year. The children will get lucky money form the adults.
Apricot blossom
Peach blossom
Dragon and Lion Dancers on the street in Tet Holiday
Dancing
During the first days of New Year, Vietnamese people do things that are supposed to be good for themselves and their loved ones such as wearing red clothes, buying salt, taking chance or praying... and avoid saying taboos (related to death, breaking...). Each region in Vietnam has its own customs to celebrate Tet, which is very special and unique.
HAPPY NEW YEAR
Source: collection